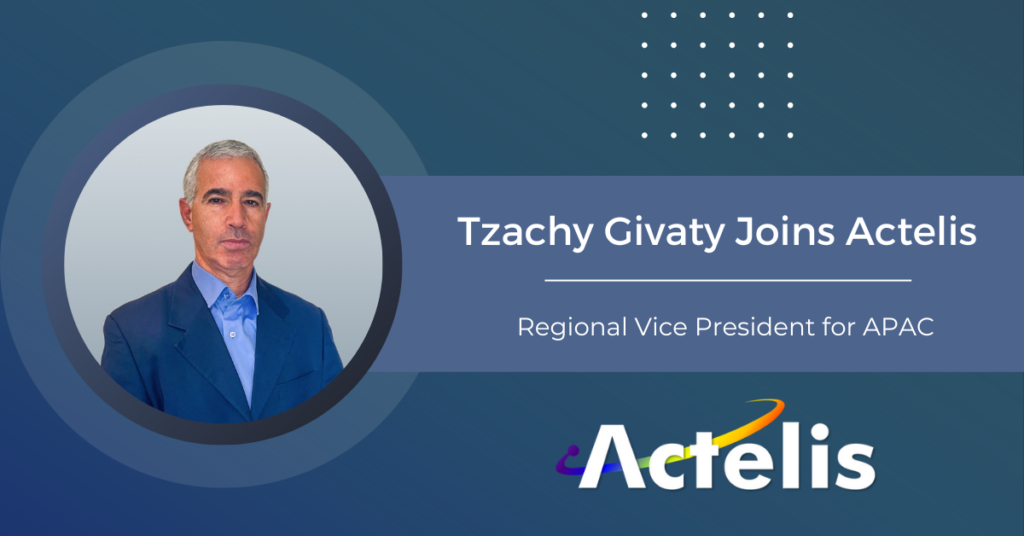 FREMONT, Calif., March 8, 2023 (GLOBE NEWSWIRE) -- Actelis Networks, Inc. (NASDAQ:ASNS) ("Actelis" or the "Company") a market leader in cyber-hardened, rapid deployment networking solutions for wide area IoT applications, today announced the appointment of Tzachy Givaty as Regional Vice President for Asia-Pacific ("APAC") to lead the company's business development and channel partner expansion efforts in the region.
Givaty has a proven record of achievement over the past 20 years in the areas of sales management, business development & key partners/alliances management roles within global cybersecurity, mobile & IoT solutions and enterprise SaaS-based software solutions companies.
Prior to joining Actelis, Givaty was Vice President of Sales and Partnerships at First Point Mobile Guard, where he was responsible for building a worldwide sales team and distribution channel partner structure. Givaty successfully developed new territories in the APAC region and the Middle East, rapidly expanding the company's presence over a three-year period.
"Tzachy truly understands how to develop new markets, and help clients solve their networking and cyber-security issues, which is in perfect alignment with our mission at Actelis," said Yaron Altit, Executive Vice President International Sales for Actelis. "His vast international experience working with governments, service providers and channel partners fits perfectly with Actelis' global expansion plans."
"I am excited to join Actelis knowing the critical role of reliable IoT networking and network security in the rapidly growing IoT markets. More and more mission-critical IoT networks are deployed for smart city, energy, transportation, governmental projects and more – requiring Actelis' solutions," said Givaty. "I'm looking forward to introducing Actelis to key system integrators and service providers to help them break down the barriers to fast and secure cross-technology IoT applications."

About Actelis Networks – Modernize. Digitize. Protect.
Actelis Networks, Inc. (NASDAQ: ASNS) is a market leader in cyber-hardened, rapid-deployment networking solutions for wide-area IoT applications including federal, state and local government, ITS, military, utility, rail, telecom and campus applications. Actelis' unique portfolio of hybrid fiber-copper, environmentally hardened aggregation switches, high density Ethernet devices, advanced management software and cyber-protection capabilities, unlocks the hidden value of essential networks, delivering safer connectivity for rapid, cost-effective deployment. For more information, please visit www.actelis.com.
Forward-looking Statements
This press release contains certain forward-looking statements within the meaning of the safe harbor provisions of the Private Securities Litigation Reform Act of 1995. These statements are identified by the use of the words "could," "believe," "anticipate," "intend," "estimate," "expect," "may," "continue," "predict," "potential," "project" and similar expressions that are intended to identify forward-looking statements. All forward-looking statements speak only as of the date of this press release. You should not place undue reliance on these forward-looking statements. Although we believe that our plans, objectives, expectations and intentions reflected in or suggested by the forward-looking statements are reasonable, we can give no assurance that these plans, objectives, expectations or intentions will be achieved. Forward-looking statements involve significant risks and uncertainties (some of which are beyond our control) and assumptions that could cause actual results to differ materially from historical experience and present expectations or projections. Actual results to differ materially from those in the forward-looking statements and the trading price for our common stock may fluctuate significantly. Forward-looking statements also are affected by the risk factors described in the Company's filings with the U.S. Securities and Exchange Commission. Except as required by law, we undertake no obligation to update or revise publicly any forward-looking statements, whether as a result of new information, future events or otherwise, after the date on which the statements are made or to reflect the occurrence of unanticipated events.
Media Contact:
Sean Renn
Global VP Marketing & Communications
srenn@actelis.com
Investor Relations Contact:
Matt Glover and Ralf Esper
Gateway Investor Relations
+1 949-574-3860
ASNS@gatewayir.com