High Density Aggregation Switch Supporting
Hybrid Networks of Fiber and Copper
High Density Aggregation Switch Supporting Hybrid Networks of Fiber and Copper
Compact, next-generation Ethernet aggregation
platform delivering high-speed Ethernet services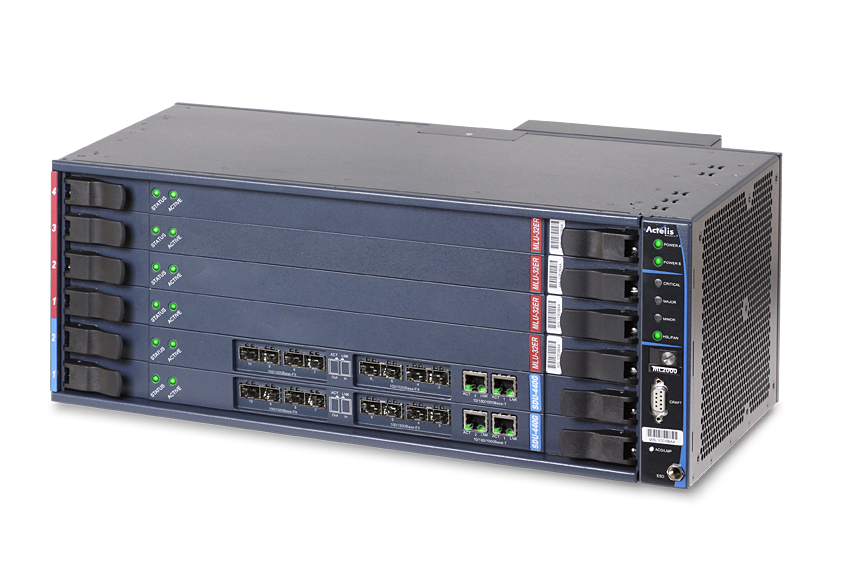 Compact, next generation Ethernet aggregation platform delivering high-speed Ethernet services

The MetaLight 2300 Ethernet Aggregation switch delivers unprecedented Rate, Reach and Reliability over existing twisted pair copper or fiber lines, enabling wide-scale deployment of Ethernet services and infrastructure. Architecturally, the ML2300 platform serves as a Central Office (CO) aggregator in a Point-to-Multipoint topology connecting to multiple fiber ethernet switches, copper switches, or hybrid fiber-copper switches.

For copper deployments, each Actelis copper or hybrid fiber-copper ethernet switch is connected to the ML2300 via a High-Speed Link (HSL) comprising 1-16 bonded copper pairs and offering up to 230 Mbps per HSL. A number of ML2300 systems can be stacked in a Star or Ring topology, providing flexible topology layouts and higher port density per uplink. To meet higher bandwidth and/or reach requirements, the Actelis ML230 can be used as an Ethernet Access Device bonding up to 32 pairs per HSL, offering more than 400 Mbps per HSL. The ML2300 HSLs can be used both for aggregation and service distribution.

The ML2300 is available with front and rear access options and installs within minutes, enabling immediate deployment of broadband services. The ML2300 offers a density of up to 64 ports per Rack unit (RU). The ML2300 is interoperable with any standard Ethernet switch or router and aligned with Metro Ethernet Forum (MEF) recommendations, enabling Actelis systems to seamlessly integrate into carrier Ethernet networks.



1 Gbps and 2.5 Gbps
Fiber Ports



High Reliability &
Availability Key Features
ML2300 Ethernet Aggregation Switch
High Density Ethernet Aggregation
Over Networks of Fiber and Copper
64 Port per Rack Hybrid Fiber/Copper Ethernet Aggregation Switch 
2.5G Uplink over fiber
Ethernet (Network/User) No. of interfaces SDU model dependant:
10/100Base-T Ports: RJ45, Auto-MDIX
100/1000Base-T (option): RJ45, Auto-MDIX
1000/2500Base-FX (option): SFP based, MSA compliant
High Speed Links (max): 64/128 (SDU-440/SDU-450 series)
Copper Pairs per HSL: 1-16 with ML600; 1-32 with ML2300/ML230
Bandwidth per HSL: 1-230 Mbps w/ML600 Exceeding 400 Mbps w/ML230 SDU-450
Extended Temperature: -40°C ~ 65°C (-40°F ~ 149°F)
Power Inputs: -48/-60 VDC nominal, dual A+B
Summary of Specifications
Learn More About Actelis'
Ethernet Aggregation Solutions
Learn More About Actelis' Ethernet Aggregation Solutions