The Actelis VDSL2 Broadband Amplifier (VBA) enables service operators to significantly enhance VDSL2's bandwidth, reach, and business case. Used in residential applications to provide higher speed broadband and triple play services that reach more customers, the VBA is also used to extend the rate and reach of VDSL2 EFM over Copper ("bonded copper") links, providing Ethernet services to the small and medium business or small cell or WiFi backhaul applications using anywhere from 1 to 8 pairs. An automated, plug 'n play device, the VBA is line powered from POTS current from the CO, features a low power draw, and can be flexibly placed at any convenient splice or termination point between the DSLAM and DSL modem.
For dry DSL scenarios or VoIP where POTS powering is not available express power can be used over an additional pair to power a whole BBA enclosure.
The VBA is fully compatible with vectoring and additive to its performance gains, or can be used on a standalone basis to provide a significant boost to VDSL2 distance and bandwidth. Compatible with any vendor's DSLAM or DSL modem equipment in the installed base, the VBA is also compatible for use on the same pair with POTS services. Featuring a robust and reliable hardened design, should a VBA nonetheless fail for any reason, it simply removes itself from the loop and allows POTS, and VDSL2 services (without the VBA's added performance benefits) to continue to operate.
By increasing the speed and distance of VDSL2 services, the VBA effectively increases the size of a DSLAM's customer serving area. Doing so without requiring a major CapEx investment changes the game for cost efficient broadband builds and rapid time to market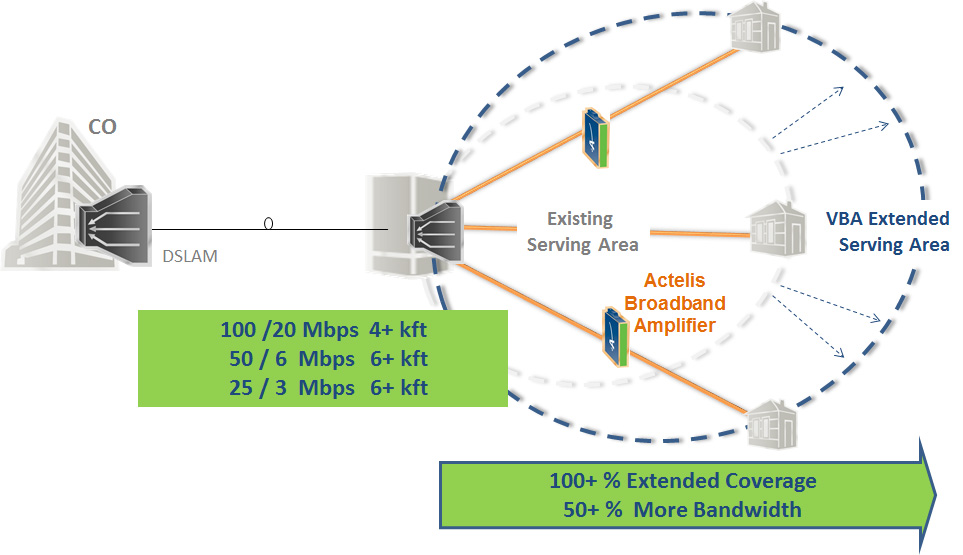 Significantly expand the coverage of high bandwidth services distributed over VDSL2 - 100 Mbps, 50Mbps, 25 Mbps
Reduces the number of small DSLAMs required
Cuts site acquisition, cabinet requirements, and install costs
Enables larger, more cost efficient DSLAMs to be used
Reduces the number of "stranded" DSL ports
Enables roll out of high speed broadband more quickly and easily
Reduces CapEx requirements significantly
Maximizes the amount of bandwidth possible per pair
Extends distance to offer business Ethernet services to SMBs over 1-8 pairs
Designed for efficient OAM, manageability and optional use of local power
* with Vectoring and VBA, 24 AWG