Cyber-Hardened, 10Gig DIN Rail Switches
Built For Hybrid Fiber/Copper Networks
Featuring optional 256-bit MACsec encryption & optional PoE++
Immediately boost your existing twisted pair network today and be ready for fiber tomorrow!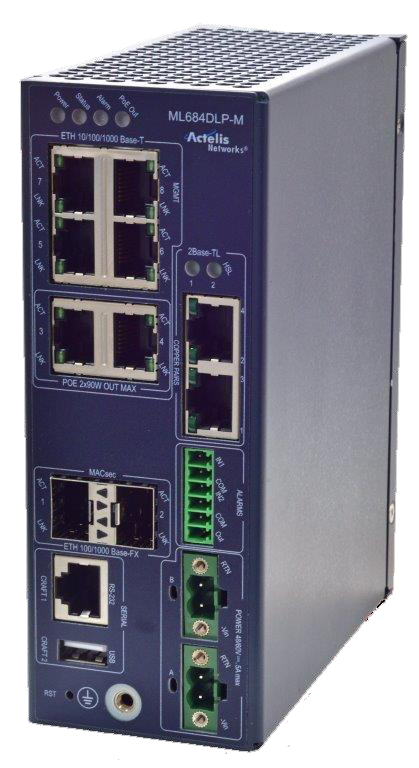 Cyber-hardened, hybrid, Add-Drop unit enabling the delivery of symmetrical high-speed Ethernet services over existing copper and/or fiber infrastructure while providing 256-bit MACSEC security. Multiple Gigabit fiber/copper interfaces for IoT devices (cameras, sensors, controllers, WiFi) or network connectivity, including optional PoE++ interfaces.

The Actelis ML684D offers an all-embracing level of security initiating from the physical layer through switching and up to the management and access layers. It provides a significantly strong and resilient solution and enables transmissions which have the highest level of immunity with notably lower vulnerability to hacking attempts.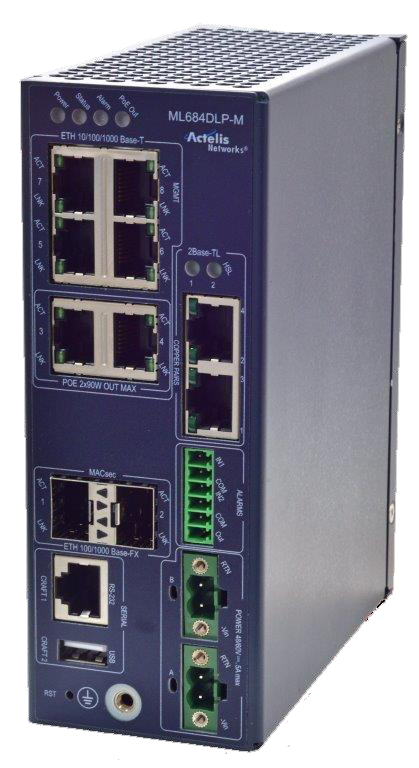 Power Over Ethernet up to 90W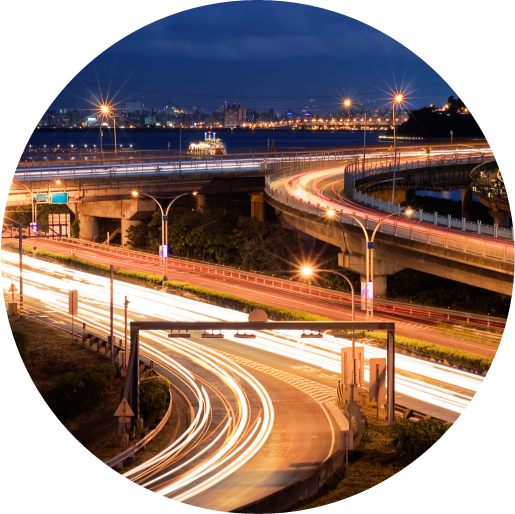 Modernize Your Traffic Management System Today!
We specialize in helping our clients complete their IoT networking projects quickly by taking full advantage of their existing network infrastructure, enabling instant fiber-grade connectivity for traffic controllers, traffic signals, cameras, sensors, and more.
Our unique solution utilizes patented algorithms to boost the rate, reach and reliability of copper.  By seamlessly extending fiber-grade communication over hybrid fiber-copper, fiber only, or copper only networks, the Actelis solution enables real-time high-speed connectivity and aggregated traffic management, enabling higher safety and surveillance across cities.
Example Hybrid Fiber-Copper Traffic Network
One proven, managed solution for networks consisting of fiber and twisted pair copper.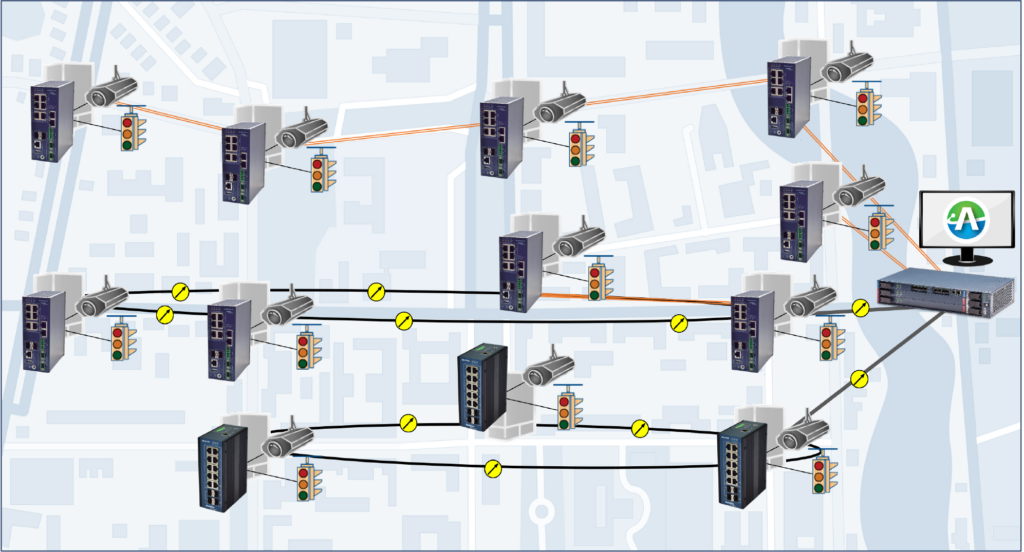 MetaLIGHT 684D Series:
Flexibility and Power
for Hybrid Networks of Fiber & Copper
ML684D Series
Common Features

8-Port Hardened Industrial Managed Hybrid Fiber-Copper Ethernet Switch, DIN Rail
1G Interfaces
Interfaces: 2x 100/1000F(x) SFP; 6x 10/100BT
Ethernet over Bonded Copper Interfaces: 1-4 bonded pairs, up to 60Mpbs, Up to 2x High-Speed Links (HSLs)
Extended Temperature: -40°C ~ 75°C (-40°F ~ 167°F)
Redundant Power Inputs: 12-48VDC, Optional AC with converter


8-Port Hybrid-Fiber Copper Ethernet Switch (as listed above) with the following features:
Interfaces: 2x 100/1000F(x) SFP; 6x 10/100/1000BT
Power Over Ethernet: 2x PoE+/++ , up to 60W (IEEE 802.3at/bt)

8-Port Hybrid-Fiber Copper Ethernet Switch (as listed above) with the following features:
Interfaces: 2x 100/1000F(x) SFP; 6x 10/100/1000BT
Power Over Ethernet: 2x PoE++ , up to 90W (IEEE 802.3bt)
Enhanced Management: Pass-through relay & USB
Security: 256-bit MacSec Encryption (ML684DL-M and ML684DLP-M models only)
Summary of Specifications
Learn More About Actelis'
Hybrid Fiber-Copper Gigabit Solutions