Ruggedized 20-Port, Managed, 10 Gigabit
Layer 2/Layer 3 Ethernet Switch.
DIN Rail, Hardened, Highly Reliable.
GL5070 Series of
DIN Rail Gigabit L2 and L3 Switches
High density hardened, fanless fiber fed switches able to support two to four 10G interfaces and up to 16 high speed gigabit interfaces per device.

GL5070 incorporates a comprehensive set of security mechanisms that include high level authentication, advanced encryption capabilities, as well as sophisticated filtering and access control.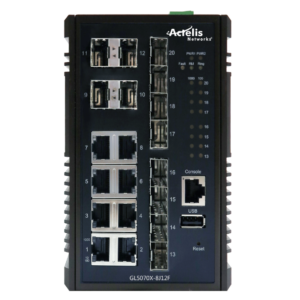 High Reliability & Availability

High Density L2 /L3 Switch
for Growing Fiber Networks
GL5070X Series
Common Features

Up to 20-port Hardened Industrial Managed L2/L3 Ethernet Switch. DIN Rail.
10G uplinks
Interfaces: 2x 1/10G SFP/SFP+, 8x 100/1000BT
Extended Temperature: -40°C ~ 75°C (-40°F ~ 167°F)
Redundant Power Inputs

10 ports L2 switch (as listed above)

12 port L2 switch – Additional 2x 1/10G SFP/SFP+ ports

20 port L2 switch – Additional 2x 1/10G SFP/SFP+ & 8x 100/1000F (x) SFP ports

10 port L2/L3 switch – (Same interfaces as listed above)

12 port L2/L3 switch – – Additional 2x 1/10G SFP/SFP+ ports

20 port L2/L3 switch – Additional 2x 1/10G SFP/SFP+ & 8x 100/100BT ports
(*) For 10G SFP+: -40 ~ 60°C (-40°F ~-140°F)
Summary of Specifications
Learn More About
Actelis' New GigaLine Fiber Offering