High Density, Cost-Effective Ethernet in the
First Mile Mini-Aggregation Switch
High Density, Cost-Effective Ethernet in the First Mile Mini-Aggregation Switch
Compact Hybrid Fiber-Copper
Point-to-Multipoint Aggregation

Compact Hybrid Fiber-Copper Point-to-Multipoint Aggregation

The MetaLIGHT 690Ex supports up to 240 Mbps of symmetrical Ethernet traffic at fiber quality over existing copper and features two optional SFP interfaces supporting 100/1000Base-FX ports. It offers CE 2.0 services on all its ports - both copper and fiber.

The MetaLIGHT 690Ex is the perfect mini-aggregation solution for low-pair count and space constrained locations within hybrid fiber-copper networks. Up to 32 High Speed Links (HSLs) can be supported in a 1RU/19" space. The ML690Ex operates in a Point-to-Multipoint (PTMP) topology, connecting multiple Actelis ML600 Ethernet Access Devices (EADs) each delivering symmetrical Ethernet services to remote subscribers/locations over multiple copper pairs.

The ML600 EADs are connected to the ML690Ex via a High Speed Link that is comprised of 1-16 bonded copper pairs. Any combination of copper pairs per HSL can be configured up to the total number of pairs supported by the ML690Ex unit.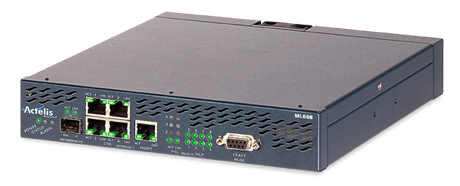 High Reliability &
Availability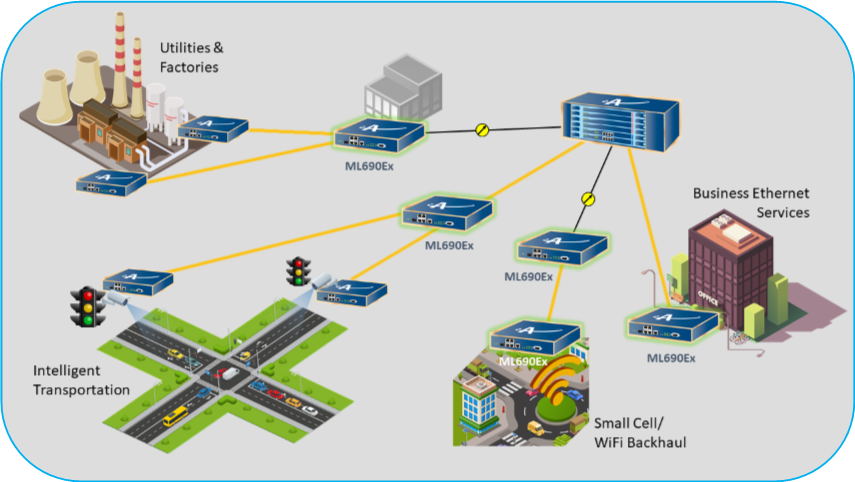 Compact, Mini-Aggregation Solution Over Networks of Fiber and Copper
Units CO/CPE: CO/CPE
# of HSLs: 4
Max bandwidth per HSL (Mbps): 200+
# of copper pairs: 16
# of SFPs – 100/1000 BaseFX: 2
# of 10/100/1000 BaseT: 4
CE 2.0
Symmetrical Vectoring/Friendly
Units CO/CPE: CO/CPE
# of HSLs: 4
Max bandwidth per HSL (Mbps): 100+
# of copper pairs: 8
# of SFPs – 100/1000 BaseFX: 2
# of 10/100/1000 BaseT: 4
SyncE-Eth (1-3-5-6): 4
CE 2.0
Symmetrical Vectoring/Friendly
Units CO/CPE: CO/CPE
# of HSLs: 4
Max bandwidth per HSL (Mbps): 200+
# of copper pairs: 16
# of SFPs – 100/1000 BaseFX: 2
# of 10/100/1000 BaseT: 4
SyncE-Eth (1-3-5-6): 4
CE 2.0
Symmetrical Vectoring/Friendly
Units CO/CPE:
CO only/High Density Aggregation
# of HSLs: 16
Max bandwidth per HSL (Mbps): 100
# of copper pairs: 16
# of SFPs – 100/1000 BaseFX: 2
# of 10/100/1000 BaseT: 2
# of 10/100 BaseT: 2
SyncE-Eth (1-3-5-6): 4
CE 2.0
Symmetrical Vectoring/Friendly
Units CO/CPE: CO/CPE
# of HSLs: 4
MACsec 256 encryption
Max bandwidth per HSL (Mbps): 200+
# of copper pairs: 16
# of SFPs – 100/1000 BaseFX: 2
# of 10/100/1000 BaseT: 4
CE 2.0
Symmetrical Vectoring/Friendly
CO only /
High Density
Aggregation

Max bandwidth per HSL (Mbps)

# of SFPs – 100/1000 BaseFX

Symmetrical Vectoring /Friendly
Summary of Specifications
Learn More About Actelis'
Ethernet Aggregation Solutions
Learn More About Actelis' Ethernet Aggregation Solutions