Go the last mile and connect all of your remaining
buildings instantly
Multi-Gigabit fiber extension over existing wiring,
connecting MDUs/MTUs, barracks, campuses, and more
Phase 2 Fiber deployment is here.
Because it's time to finish the job.
The first wave of fiber deployment is now done, accommodating affordable and easy to reach locations. Now it's time for the next wave to connect the harder to reach locations, where the 2nd generation of fiber-hybrid networks use both fiber and gigabit speed copper to provide fiber-grade connectivity quicker and much more economically.  
The GL800 and our GL900 product lines are the perfect choice to close the digital divide immediately. We utilize your existing network infrastructure to save a tremendous amount of time and cost, and more importantly, get people connected immediately to the critical services they are lacking today.

Gigabit Hybrid Fiber-Copper
Layer 2 Managed Switch

Reach locations not served by fiber today


Gigabit over existing twisted pairs

Ultra-secure 256-bit triple shield encryption
Limited GL800 Free Trials Are Available!
Just fill in your email address and hit submit!  We will contact you with details.

Exponentially Increase Homes Passed, Instantly
When GigaLine 800 is installed in a neighborhood, fiber-grade service becomes instantly available
to all nearby homes, exponentially increasing your number of homes passed!
* Performance may vary based on required noise margin, noise environment within the binder, DSLAM / DPU / CPE used,
copper pairs quality and cable type. All distances are 24 AWG.
Fiber Extension To The Campus/Building
Taking advantage of your existing twisted pairs, GL800 bridges the last mile gap between the
fiber termination point and the out of fiber reach buildings, instantly enabling multi-gig speeds.
Summary of Specifications - GigaLine 800
Compact, ultra-low power, intelligent PON/Gigabit Ethernet
splitter over copper or coax
How Actelis Works With Service Providers
Actelis In Action (under develpment)
Business Connections everywhere
Enabling Critical Applications
High Speed Ethernet/IP over fiber or copper
Enabling wider availability of business connectivity
Featured Provider Solution:
SMB/Distributed Workforce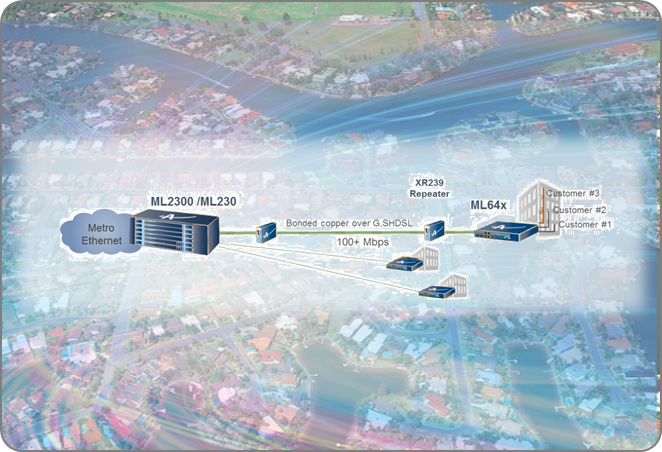 Business & Residential
Amplifiers and Line Equalizers
Actelis Science of Networking
Performance Improvement