Government municipalities of all sizes from large urban cities to small suburban towns are benefiting from high speed broadband connectivity enabled by Actelis Networks' Ethernet over copper bonded solutions.  For example, public safety is being improved with the use of real time video surveillance of highly trafficked public areas; while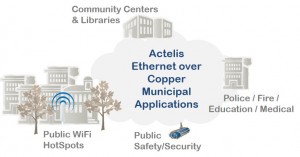 government offices not accessible to metro fiber are being connected to the Internet and secure Intranets via 10-100Mbps links; and finally, citizens are benefiting from free Internet access via WiFi hotspots deployed at outdoor public locations.
Actelis Networks leverages the latest standards and innovation in Carrier Ethernet, DSL and copper bonding technologies to truly enrich municipalities across the globe.
Actelis offers solutions which delivers 100+Mbps over bonded copper using G.SHDSL/VDSL2/ADSL2+, and applies proprietary technology to drive the highest bandwidth over copper with the most distance, reliably and with high service quality.  Actelis offers a portfolio of carrier class ML600/ML700 Ethernet Access Devices (EADs) that are deployed at endpoints of the network, which can be optionally packaged into environmentally hardened enclosures for outdoor deployment.   The ML600 family scales to allow from 2 to 16 bonded copper pairs (supporting up to 15Mbps/pair) to provide up to 6 Ethernet user ports which connect into switches/routers, cameras, WiFi and other IP equipment at that location.
At centralized sites in the network, the MEF CE 2.0 certified Actelis ML230/2300 aggregation switch provides termination for up to 256 copper pairs, delivering an efficient handoff to collocated IP/MPLS switches, routers, controllers and other IP equipment via standards compliant interfaces.