ML600Dx Ethernet Access Devices
The Actelis Networks ML600Dx family of cost efficient, compact, hardened hybrid fiber-copper industrial Ethernet switches and extenders is optimized for delivering up to 60 Mbps of Ethernet/IP traffic over up to 4 pairs of bonded copper and/or fiber. ML600Dx are extremely flexible platforms which support drop and continue, as well as linear and fast healing ring topologies. They are ideal for intelligent traffic networks, service provider applications and private enterprises. With its superior performance, environmental hardening, small form factor, and fanless DIN rail mount design, the ML600Dx Layer 2 switches can be installed almost anywhere, providing immediate high-performance broadband over bonded copper or fiber. Actelis' ML510Dx complement ML600Dx product line by offering DIN rail, fiber only, high density switches.
Actelis has comprehensive mechanisms that include high level authentication and advanced encryption capabilities. The segmented and scrambled Ethernet packets are disseminated over multiple transmission conduits and include sophisticated filtering and access control using layer 2 processes.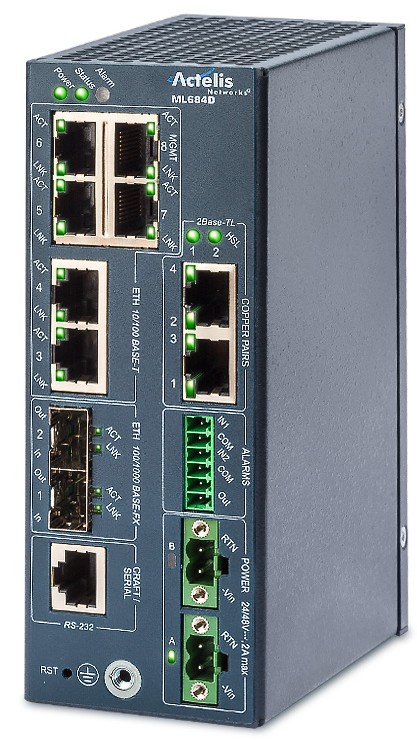 Actelis hybrid fiber-copper ML600Dx Layer 2 switch portfolio offers an all-embracing level of security initiating from the physical layer through switching and up to the management and access layers. This gives you a significantly strong and resilient solution enabling transmissions which have the highest level of immunity with notably lower vulnerability to hacking attempts.
Supporting an extensive set of standards-based Carrier Ethernet features, the ML600Dx MEF compliance ensures both service interoperability and multi-vendor interworking. The ML600Dx features include support for 802.1q VLANs, multi-QoS, and Ethernet OAM, supports up to eight Ethernet interfaces, and allows for multiple data networking devices, video cameras, wireless radios and other IP devices to be connected at each location.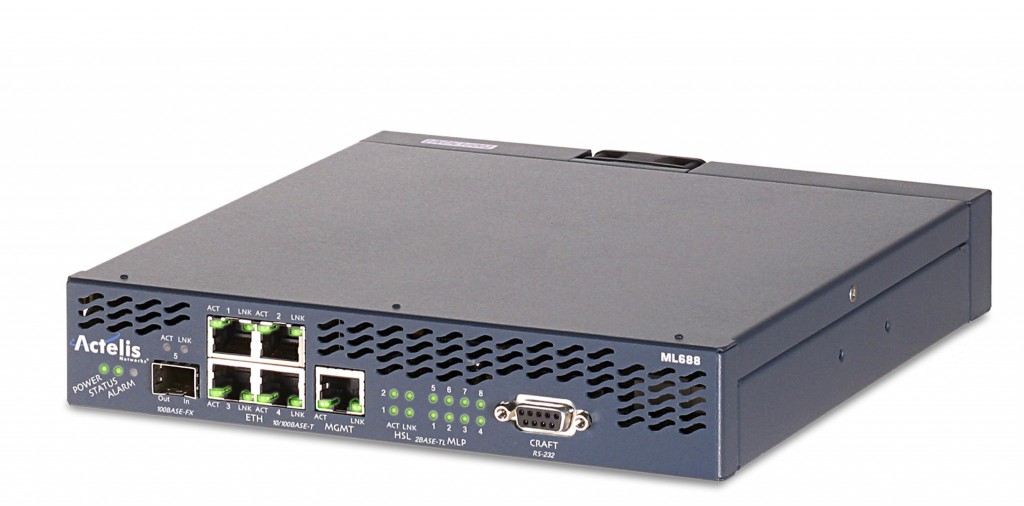 The ML600Dx bonds up to 4 copper pairs and is powered by Actelis Networks' unique EFMplus™ technology which ensures the best rate/reach performance and carrier-class reliability. Combined with Actelis' industry-leading XR239 EFM Repeaters, the reach can be extended even further.
ML600Dx portfolio expand the existing ML600 and especially ML680 product lines offering similar hardened compact solutions (1/2 19" wide) that can be rack mounted as well as wall mounted or used as a desktop. The combined hybrid fiber-copper ethernet switch portfolio offers flexible and ideal solutions for rugged intelligent traffic systems, surveillance, railway, utility, and industrial network applications.