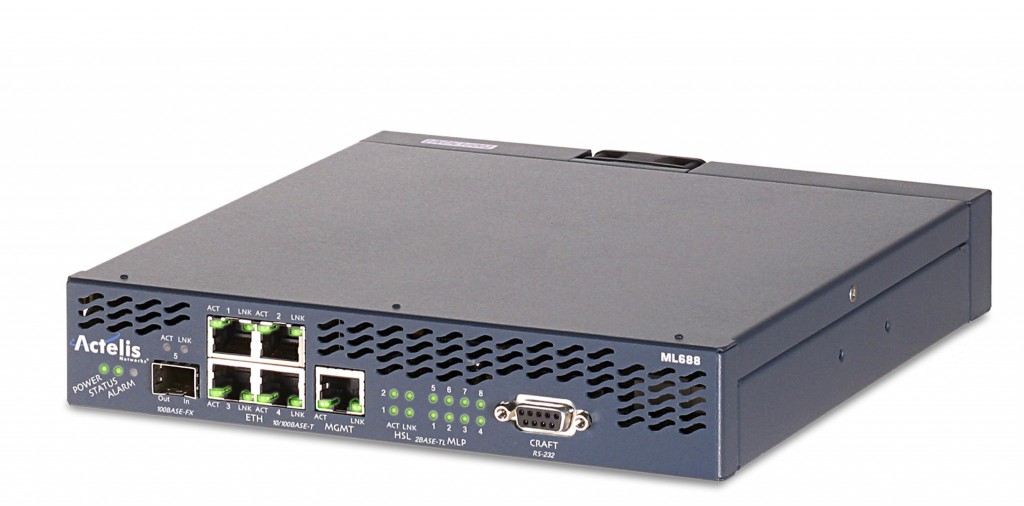 The Actelis Networks ML680 family of cost efficient, compact, hardened Ethernet switches includes two variants - The ML688 and the ML684. The ML688 can bond up to 8 copper pairs to deliver up to 100 Mbps of Ethernet services while the ML684 can bond up to 4 pairs. Both products are also equipped with a fiber interface. The ML680s are extremely flexible platforms that support drop and continue, as well as linear and ring topologies. They are ideal for a variety of private enterprise, intelligent traffic network, and service provider applications.
With its superior performance, environmental hardening and small form factor the ML680 Ethernet switch can be installed almost anywhere and provides high performance broadband over bonded copper. The ML680 copper pairs can be divided to enable two high speed link for a drop and continue or a small point to multi point scenario.
Supporting an extensive set of standards-based Carrier Ethernet features, the ML680's MEF compliance ensures both service interoperability and multi-vendor interworking. The ML680 features include support for 802.1q VLANs, multi-QoS, and Ethernet OAM, supports up to five Ethernet interfaces, and allows for multiple data networking devices, video cameras, wireless radios and other IP devices to be connected at each location.
The ML680 is powered by Actelis Networks' unique EFMplus™ technology which ensures the best rate/reach performance and superior reliability. Combined with Actelis' industry-leading XR239 EFM Repeaters, the reach can be extended even further.
The ML600Dx Industrial product line enhances and complements the Actelis ML680 family with an ultra-compact small form factor, DIN railing hardened, fanless design, that is mountable almost anywhere - optimized for rugged intelligent traffic system, surveillance, railway, utility, and industrial network applications.