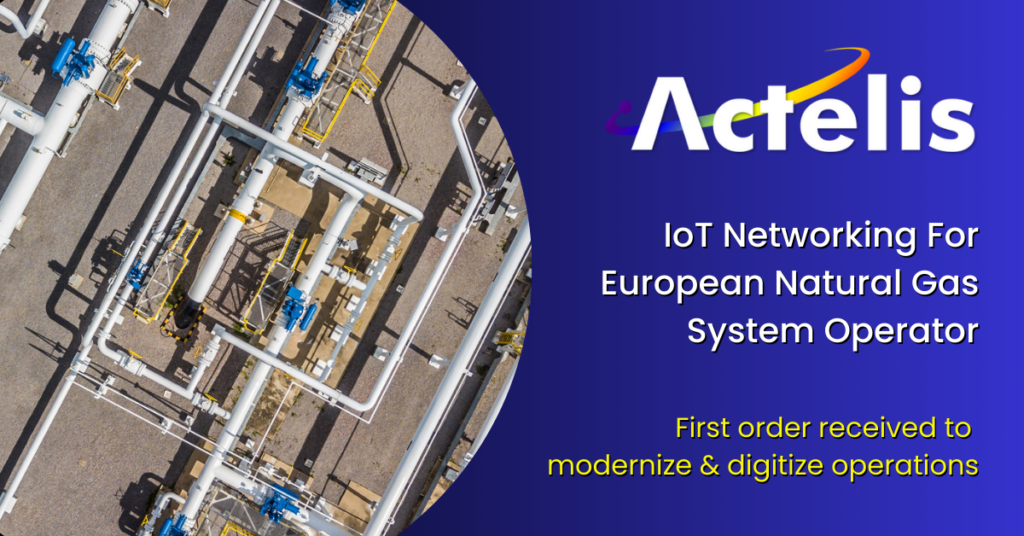 FREMONT, Calif., October 17, 2023 (GLOBE NEWSWIRE) -- Actelis Networks, Inc. (NASDAQ:ASNS) ("Actelis" or the "Company") a market leader in cyber-hardened, rapid deployment networking solutions for IoT applications, today announced that it has received a first order to supply a major European natural gas transmission system operator with its hybrid fiber-copper networking solution as part of a new tender win. This new win demonstrates Actelis' continued growth within critical IoT networks around the world.
Actelis' new customer operates a high-pressure natural gas pipeline network stretching over thousands of kilometers in a large European country. The company operates in an industry that is heavily regulated and requires strict monitoring of all operational aspects to ensure quality, safety, security, and accuracy of information. Actelis' cyber and temperature hardened Ethernet access devices are able to support all of these attributes, delivering and protecting key operational data to help with quality control, system maintenance, and measurement of natural gas characteristics such as tank levels, inventory, temperature, and flow.
The Actelis solution will enable and extend instant, fiber-grade connectivity over the client's existing network infrastructure to maximize the speed, quality and reach of data transmission even to the most remote locations, for improved operations, safety, and security. Actelis network switches operate over hybrid networks of fiber and copper, boosting the performance of existing wiring at long distances, allowing customers to connect locations that would be expensive, time consuming, and labor intensive to reach with a fiber-only connection.
In recent years, the energy sector has been hit with several cyber-attacks and network infrastructure is vulnerable to continuous threats. Actelis solutions offer advanced end-to-end encryption protocols at the device, transmission, and management levels to help protect against hacking, jamming, and denial of service attacks.
"Within energy industry networks, our solution is perfect because it is able to operate over long distances and in extreme climates, providing our customers a rapidly deployable, reliable network they can trust," said Tuvia Barlev, Chairman and CEO of Actelis. "Customers can be up and running with the solution in a matter of hours, getting fiber-grade connectivity using the wiring that is already in their networks."
The deployment of the Actelis solution will be done in collaboration with Actelis' local partner, denk-stein:net GmbH, based in Germany. denk-stein:net GmbH distributes, advises and develops solutions and products for data and telecommunication networks. This trusted Actelis partner serves Germany, Austria, Hungary, and Switzerland.

Related Products

About Actelis Networks – Modernize. Digitize. Protect.
Actelis Networks, Inc. (NASDAQ: ASNS) is a market leader in cyber-hardened, rapid-deployment networking solutions for wide-area IoT applications including federal, state and local government, ITS, military, utility, rail, telecom and campus applications. Actelis' unique portfolio of hybrid fiber-copper, environmentally hardened aggregation switches, high density Ethernet devices, advanced management software and cyber-protection capabilities, unlocks the hidden value of essential networks, delivering safer connectivity for rapid, cost-effective deployment. For more information, please visit www.actelis.com.
Forward-looking Statements
This press release contains certain forward-looking statements within the meaning of the safe harbor provisions of the Private Securities Litigation Reform Act of 1995. These statements are identified by the use of the words "could," "believe," "anticipate," "intend," "estimate," "expect," "may," "continue," "predict," "potential," "project" and similar expressions that are intended to identify forward-looking statements. All forward-looking statements speak only as of the date of this press release. You should not place undue reliance on these forward-looking statements. Although we believe that our plans, objectives, expectations and intentions reflected in or suggested by the forward-looking statements are reasonable, we can give no assurance that these plans, objectives, expectations or intentions will be achieved. Forward-looking statements involve significant risks and uncertainties (some of which are beyond our control) and assumptions that could cause actual results to differ materially from historical experience and present expectations or projections. Actual results to differ materially from those in the forward-looking statements and the trading price for our common stock may fluctuate significantly. Forward-looking statements also are affected by the risk factors described in the Company's filings with the U.S. Securities and Exchange Commission. Except as required by law, we undertake no obligation to update or revise publicly any forward-looking statements, whether as a result of new information, future events or otherwise, after the date on which the statements are made or to reflect the occurrence of unanticipated events.
Media Contact:
Sean Renn
Global VP Marketing & Communications
srenn@actelis.com
Investor Relations Contact:
Kirin Smith
PCG Advisory
Ksmith@pcgadvisory.com