Actelis' Ethernet over bonded copper portfolio delivers up 100+Mbps of symmetrical (using G.SHDSL) or asymmetrical (using VDSL2/ADS2+) bandwidth into hard to reach municipal sites, including both fixed buildings and public outdoor sites which are often unreachable or not economical to connect using fiber.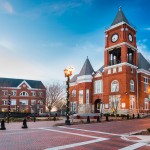 As more and more government services go online, municipalities are already upgrading their IT infrastructure to manage and communicate data more effectively to their employees and residents.  While their core locations have access to high bandwidth fiber services, outlying and hard to reach sites remain starved for bandwidth and cannot fully benefit from these services in many cases.
Actelis offers a very cost efficient means to provide bandwidth to the masses, so that communities as a whole can have access to municipal services regardless of where they reside.  And with shrinking government spending across the board, the pressure to do more with less is precisely what an Actelis bonded copper solution delivers with 200% more bandwidth than standard T1/E1 over copper.