Actelis Networks enables service providers to offer lucrative high speed Ethernet services to the tens of millions of small and medium businesses (SMBs) that are demanding reliable, high speed Ethernet access and Cloud services. Because these customers are typically located in smaller buildings off the fiber footprint, telecom service operators  have not been able to reach them cost effectively with fiber due to the cost – and microwave is not well suited to this task.
Complementing the existing investment in fiber, DSLAMs, and the copper access plant, Actelis solves offering Ethernet services to SMBs profitably, be they symmetrical or asymmetrical, carrier class standards-based MEF CE2.0 or "better than best effort", or targeted at either retail or wholesale markets.   Actelis' Business Ethernet solutions provide a cost effective means to quickly and profitably serve individual customers.
Based on Actelis' EFM over Copper broadband portfolio including the ML600 and ML700 series of G.SHDSL and VDSL2-based Ethernet Access Devices (EADs) and the ML2300/ML230 series of aggregation devices, the Business Ethernet Services solution uses up to 16 pairs of copper with the ML600 series and up to 8 pairs with the ML700.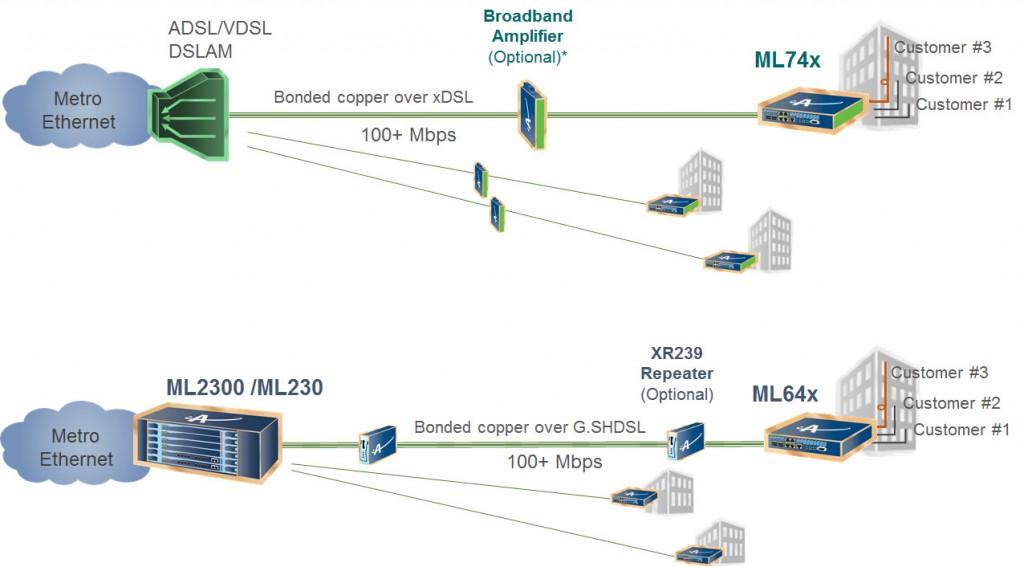 This enables efficient N x 10 and Nx 100 Mbps  services for individual small to medium business customers throughout the metro, or scaling bandwidth into the 100s of Mbps and up to 10 Gbps for "Bandwidth to the Building" scenarios where one Ethernet Access Device (EAD) located in the main Telco closet is used to serve multiple customers on floors throughout the building while keeping each customers' traffic flows secure.
Where extending the distance and bandwidth of VDSL2-based Business Ethernet services is required, the VDSL2 Broadband Amplifier (VBA) significantly enhances performance without requiring a full regeneration. Where more distance is required for G.SHDSL-based Business Ethernet, the XR239 repeaters can significantly extend the distance of G.SHDSL to take bandwidth to even the most remote locations throughout the metro.
Actelis Business Ethernet Services solutions enable:
Bonding from 4-16 copper pairs and up to 240 Mbps per link of symmetric service using G.SHDSL
Bonding from 2–8 copper pairs and up to 750 Mbps per link of asymmetric service with VDSL2
Easy and immediate migration to 1 Gbps over fiber via Actelis hybrid ML600x solutions
Up to 10 Gbps services with Actelis new ML500x product family.  
Bandwidth-to-the-building connectivity serving multiple tenants over fiber or bonded copper 
Extended G.SHDSL range 100+ kft, up to 9 hops with the Actelis XR239 spectrally friendly Repeaters
Doubling the distance for high bandwidth services without a regeneration  using the line-powered Broadband Amplifiers (BBA)*
Legacy services support offering E1s and V.35 based services with easy migration to Ethernet