Actelis' Broadband Amplifiers (BBAs) are digitally controlled analog amplifiers that provide a simple, low cost way to significantly enhance the distance and bandwidth possible with DSL services offered over 1 pair for residential broadband.  They can also be used to enhance the performance of 2, 4, or 8 pairs of bonded EFM over Copper ("bonded copper") links used to offer business Ethernet services or small cell or Wifi backhaul.   Providing a solution for extending the reach and rate of both VDSL2 and ADSLx services, the broadband amplifiers are simple to install and operate, and are completely compatible with other services on the line.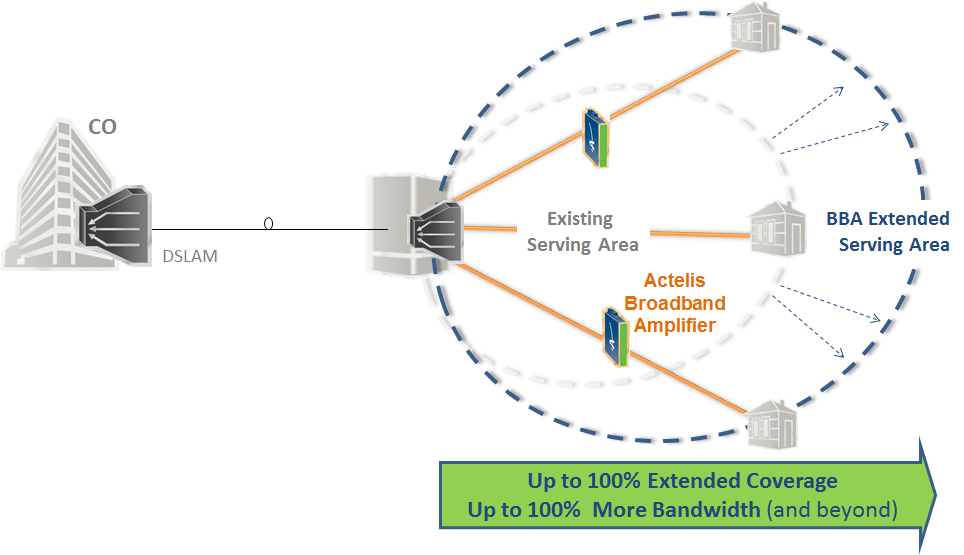 Actelis BBA's features
Line powering
Plug 'n play simplicity
Lower power draw
Flexible placement
Compatibility with any vendor's DSLAM
and DSL modem
Compatibility with POTS services on the same pair
Performance gains additive to vectoring and bonding
The BBAs increase the distance and rate of DSL services, increasing the effective size of a DSLAM's digital serving area. This enables operators to
Reduce the number of smaller DSLAMs that must be placed very close to customers
Use larger and more cost effective DSLAMs
Reduce site acquisition and installation costs
Cut down on the number of expensive fiber backhaul links required
Increase the performance of DSL
Allow larger and more efficient DSLAMs to be placed further away.
The result:
Higher service levels to existing customers
Reaching many more customers with high speed broadband and triple play services
Greatly reduced CapEx investment, lower OpEx, and minimized TCO
BBAs can coexist with other services on a pair, such as POTS (telephony), and are also compatible with vectoring and bonding adding to the  performance gains.