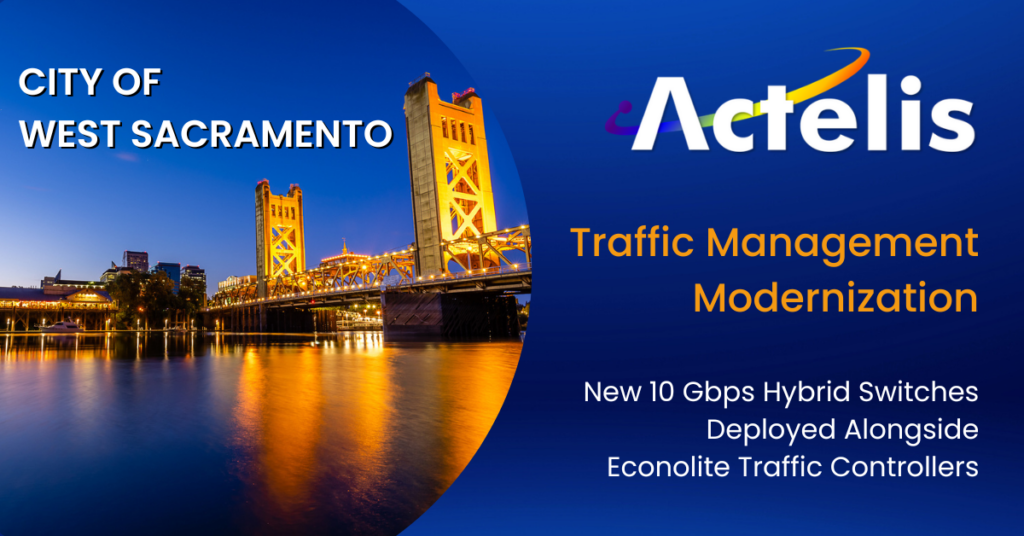 FREMONT, Calif., April 5, 2023 (GLOBE NEWSWIRE) -- Actelis Networks, Inc. (NASDAQ:ASNS) ("Actelis" or the "Company") a market leader in cyber-hardened, rapid deployment networking solutions for wide area IoT applications, today announced that the city of West Sacramento, CA, will be deploying Actelis' new Hybrid Fiber-Copper, high-switching capacity devices as part of a major traffic signal network upgrade. Actelis partnered with Econolite, a leading provider of traffic management systems for this project.
The City Utilizes Actelis' New 10 Gbps Hybrid Switches alongside Cobalt Advanced Traffic Controllers By Econolite, Actelis' Business Partner
West Sacramento, located just across the river from the state capital of California, has experienced a tremendous population growth of 68% since 2000 – increasing the need for better traffic management solutions. The city's three-phased project utilizes Actelis' new family of rapid deployment switches embedded in Econolite's Advanced Traffic Controllers (ATCs). Built for hybrid networks of fiber and copper, Actelis' new product family is a line of software-managed, compact industrial switches that utilize the existing fiber or enhance the existing copper infrastructure to fiber grade transmission. The solution brings instant, cyber-hardened, high-speed connectivity out to intersections, at a fraction of the cost of a network that requires digging or trenching for new fiber installation everywhere.
Following the success of the first phases in reducing traffic delays, allowing traffic flow in an efficient and effective manner, and improving emergency services response, the city has been upgrading its traffic management systems, with the final phase currently in progress. Actelis' new multi-gig networking devices, will enable city staff to manage, maintain, and operate their traffic system with increased efficiency.
"The Actelis solution was ideal for this project because it enabled West Sacramento to very quickly realize the benefits of a modern traffic control system," said Mike McIntee, Vice President of Western Sales at Econolite.
"We appreciate West Sacramento's and Econolite's partnership and the opportunity for the Actelis solution to perform the critical task of delivering high speed connectivity to the city's intersections, rapidly and at a fraction of the cost," said Tuvia Barlev, chairman and CEO of Actelis. "Knowing that our technology helps bring a higher level of operational efficiency to city staff, and increased safety to area residents, is very gratifying."
About Actelis Networks – Modernize. Digitize. Protect.
Actelis Networks, Inc. (NASDAQ: ASNS) is a market leader in cyber-hardened, rapid-deployment networking solutions for wide-area IoT applications including federal, state and local government, ITS, military, utility, rail, telecom and campus applications. Actelis' unique portfolio of hybrid fiber-copper, environmentally hardened aggregation switches, high density Ethernet devices, advanced management software and cyber-protection capabilities, unlocks the hidden value of essential networks, delivering safer connectivity for rapid, cost-effective deployment. For more information, please visit www.actelis.com.
Forward-looking Statements
This press release contains certain forward-looking statements within the meaning of the safe harbor provisions of the Private Securities Litigation Reform Act of 1995. These statements are identified by the use of the words "could," "believe," "anticipate," "intend," "estimate," "expect," "may," "continue," "predict," "potential," "project" and similar expressions that are intended to identify forward-looking statements. All forward-looking statements speak only as of the date of this press release. You should not place undue reliance on these forward-looking statements. Although we believe that our plans, objectives, expectations and intentions reflected in or suggested by the forward-looking statements are reasonable, we can give no assurance that these plans, objectives, expectations or intentions will be achieved. Forward-looking statements involve significant risks and uncertainties (some of which are beyond our control) and assumptions that could cause actual results to differ materially from historical experience and present expectations or projections. Actual results to differ materially from those in the forward-looking statements and the trading price for our common stock may fluctuate significantly. Forward-looking statements also are affected by the risk factors described in the Company's filings with the U.S. Securities and Exchange Commission. Except as required by law, we undertake no obligation to update or revise publicly any forward-looking statements, whether as a result of new information, future events or otherwise, after the date on which the statements are made or to reflect the occurrence of unanticipated events.
Media Contact:
Sean Renn
Global VP Marketing & Communications
srenn@actelis.com
Investor Relations Contact:
Matt Glover and Ralf Esper
Gateway Investor Relations
+1 949-574-3860
ASNS@gatewayir.com