Actelis Networks enables utility companies globally to cost effectively migrate their communication networks to higher bandwidth to support the increasing investment in Advanced Metering Infrastructure (AMI) and smart grids, focused on increased usability, manageability and security of their critical infrastructure.
Information from IP based SCADA systems, remote video surveillance equipment, monitoring devices and smart grid units can be reliably and securely aggregated using Actelis' high bandwidth Ethernet over copper solutions, reaching all utility locations, especially those that are off the fiber footprint.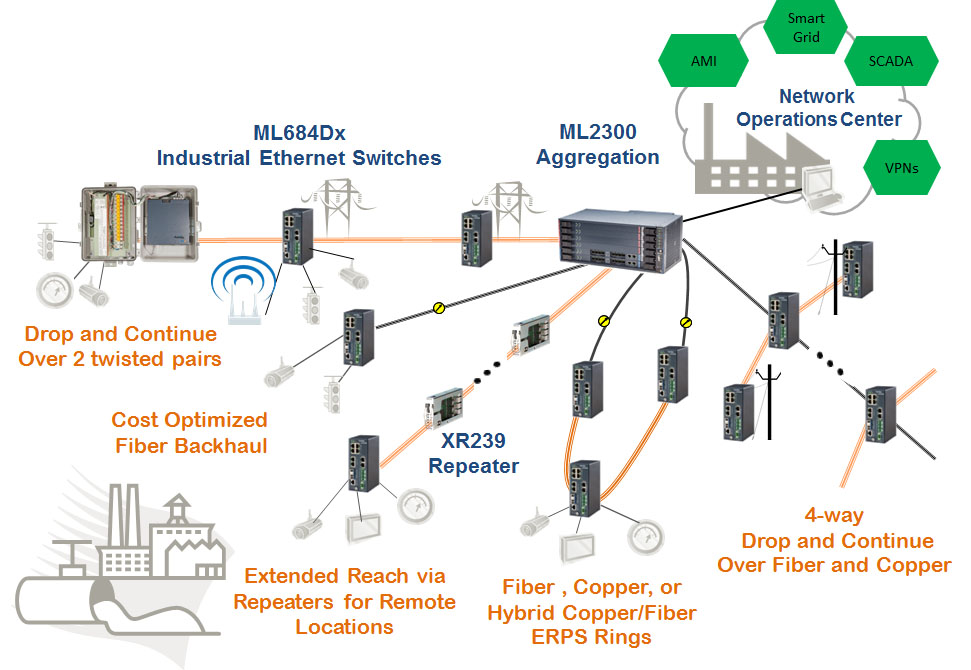 Actelis offers several Ethernet over bonded copper solutions for high capacity symmetric (G.SHDSL) and asymmetric (VDSL/ADSL) utility transport applications.  Actelis comprehensive portfolio of All-In-One Industrial Ethernet switches and extenders - ML600Dx, as well as its ML600 and ML700 Ethernet Access Devices (EADs) provide connectivity for a variety of Ethernet connected devices (switches, routers, WiFi access points), IP data sensors, Serial devices, surveillance video, legacy TDM, PoE, and other equipment.  Actelis environmentally hardened enclosures can be used for deployment at outdoor sites, and are designed to be installed and left to operate for years without maintenance to minimize ongoing operational costs.
At aggregation points or in the network core, Actelis ML230/2300 aggregation switches provide termination for up to 256 copper pairs, delivering an efficient handoff to collocated IP/MPLS switches, routers, controllers, and other IP equipment via standards compliant interfaces.   Optionally, the ML700 can also be deployed at an aggregation node to terminate downstream VDSL/ADSL connected EADs.  Actelis also offers a portfolio of amplifiers (VBA/ABA) and repeaters (XR239) for extending high bandwidth Ethernet services over copper to remote industrial locations and buildings.