Operators can use the VBA along with vectoring to effectively double the bandwidth of VDSL2-based triple play services or significantly enhance their distance capabilities. The VBA enables reaching many more customers with much more high quality bandwidth, satisfying residential demand for triple play services and generating additional revenues while meeting all KPIs and regulatory universal broadband objectives ….all more quickly and profitably over copper than could ever be done with a fiber-based solution.


The Actelis backhaul solution combines the VBA, the ML74x Ethernet over bonded VDSL2 Ethernet access device, and remote powering using power over Ethernet to solve the critical challenges of getting scalable bandwidth, low latency, low jitter and power out to cell sites and hotspots. With the Actelis VBA operators with mobile networks can roll out standards-based MEF Carrier Ethernet backhaul featuring twice the bandwidth of VDSL2-based EFM over Copper. The VBA enables reaching many more sites much more quickly and cost effectively than can be done with fiber. Remote Power over Ethernet not only supplies power to the ML74x backhaul unit, but can also be used to power small cell or WiFi base stations - eliminating the need to find a local source of power.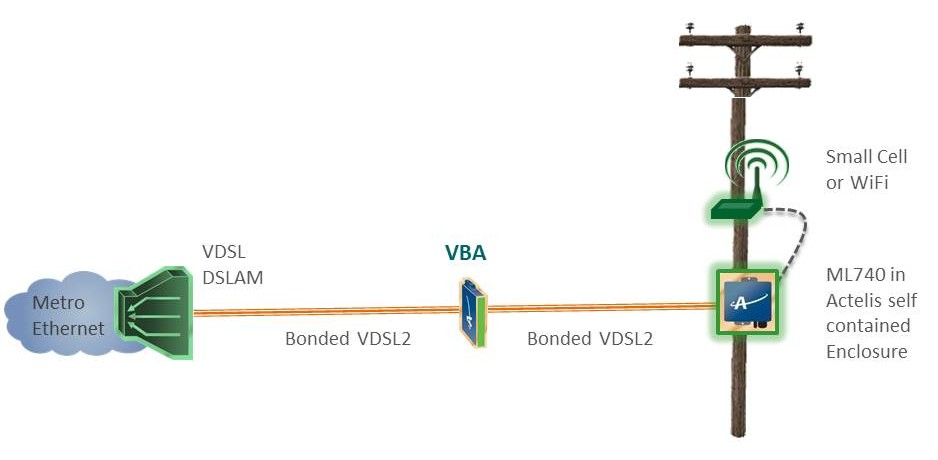 SMBs are increasingly looking for N x 10 Mbps Carrier Ethernet services as they leverage access to the Cloud. Cloud services are enjoying fast growth with SMBs because they allow these customers level the competitive playing field by giving them access to the kind of IT expertise, resources, and economies of scale once available only to the largest of corporations. The ML74x bonded VDSL2 solution offers up to 750 Mbps by itself. The addition of the VBA* allows service operators to cost effectively increase their number of SMB customers by extending their coverage area as well as service level that can be sold…growing revenues and strengthening competitiveness.