What is Cascade Topology?                  
Cascaded topology is a network layout in which TWO Actelis Broadband VDSL2 Amplifiers (VBAs) are placed, one AFTER the other, on a DSL line between a DSLAM and a CPE. The span between the DSLAM and the CPE is divided into three sections – D1, D2, and D3 or two hops, as can be seen from the figure below. The data (signal) transmitted from the DSLAM is amplified TWICE.
VBA#1, connected directly to the DSLAM port, provides the first level of amplification, and
VBA#2 connected to VBA#1 and to the CPE provides the second level of amplification.
Using two-stage amplification allows the DSL signal to be transmitted to longer reach / offer higher bandwidth .
25 Mbps service coverage can be extended to support requirements set by the Rural Digital Opportunity Fund (RDOF) see coverage map below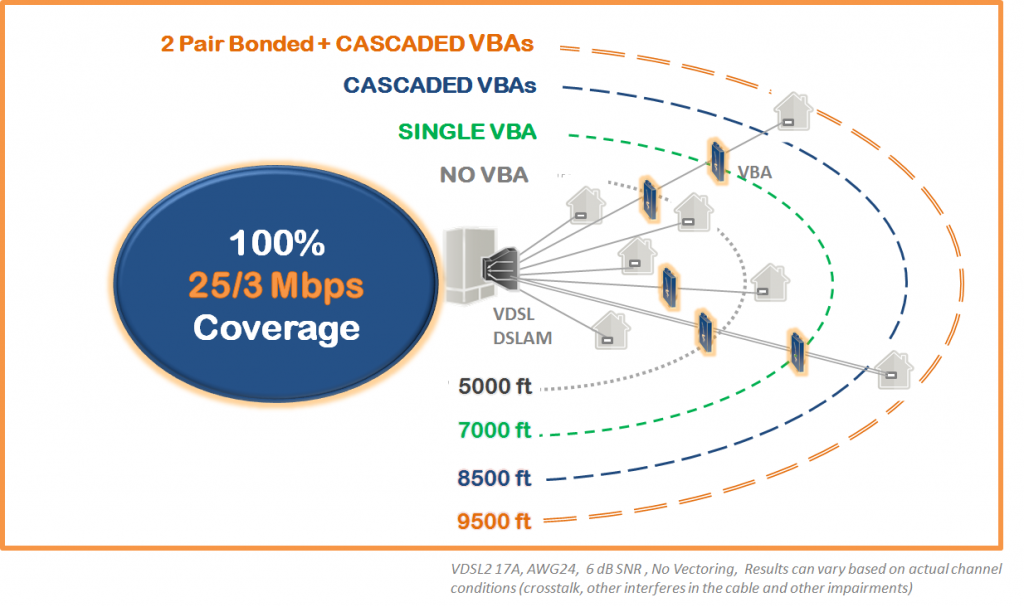 Same cascaded VBA topology can be used also to expand and extend the backhaul pipe of a remote copper fed DSLAM. Typically 8 copper pair creating a bonded VDSL link would be used as backhaul. Using VBAs or cascaded VBA can significantly increase the bandwidth of the backhaul link allowing higher bandwidth services to be distributed by this DSLAM, or a higher number of customers that can be served. Cascaded VBA topology can be also used to enable longer backhaul links.

Ultra-Long Reach VDSL
Cascaded VBA can be combined to offer even higher benefit allowing to maximize both the backhaul as well as the distribution network connecting directly to the customer.
Using cascaded VBA topology CAF3 services 25/3 Mbps can be extended to up to 19 kft and 50/10 Mbps services can be extended up to 11 kft. See a few example below.
Carriers, using the cascade topology are able to boost Downstream and especially Upstream rates that are increased up to 3X to 6X. Cascade topology support bonding to allow even greater bandwidth or reach.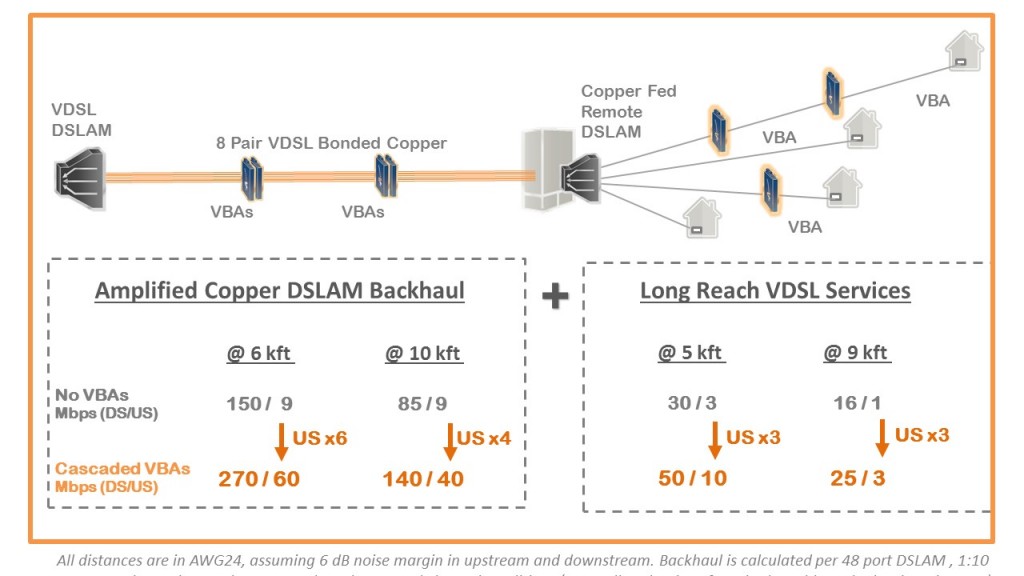 Broadband in an Hour
VBAs can be quickly installed, typically in less than an hour and provide instant broadband service to un-reached customers or increase bandwidth for existing customers generating additional revenues
Ultra- Low Cost to Deploy
Actelis VBAs do not require any construction costs, permits, commercial power drop, or a new cabinet/pedestal. VBAs can be powered from POTS powering, line powering or use express powering (48V) consuming only 100 mw to 160 mw per amplifier.
Various types of configurations and enclosures are supported with the VBA offering 2 and up to 8 pairs per enclosure. Each VBA card support 2 pairs that can be used to serve two different customers or a single customer with a bonded 2 pair link.
.