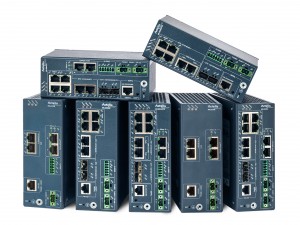 Actelis' ML600D and ML500D product lines offer hardened Industrial Ethernet switches designed for challenging environments. The ML600D and ML500D products provide high bandwidth, market leading reliability, and extremely small form factor. Flexible topologies such as fast healing rings and Drop-and-Continue are supported to meet the demands of intelligent traffic systems, surveillance, railway, municipal, and utility and military networks applications.
Featuring a full front access, compact, hardened, fanless design and mountable almost anywhere, Actelis' industrial switches enable taking more high performance Ethernet bandwidth to more places easily, quickly, and cost effectively.
ML600D and ML500D  advanced Industrial Ethernet devices offer a unique combination of features making it the most cost effective solution available in the market.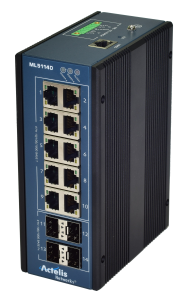 High Density Ethernet switches enabling connectivity to multiple Ethernet devices (camera, sensors ..) per location

ML600Dx - 8-port Ethernet switches  including two fiber interfaces (SFPs)
ML500D-  Up to 14-port Ethernet switches and extenders including four fiber interfaces (SFPs)

High varaity of switches offering Extenders over bonded copper or fiber allowing to cost effectively extend high speed Ethernet traffic further into the network.
Passive PoE interfaces supporting up to 60W per PoE port, multiple ports per model .
Serial interface supporting RS-232/V.24/RS-422/RS-E485 (ML6000Dx specific models)
Media Converter - Allowing conversion between any of the following - Ethernet over Fiber to Ethernet Copper to Ethernet over bonded copper
.
Actelis Industrial portfolio includes the following product lines: